The Dire Need for Outdoor Warning Sirens: Cellular Reliance Can Cost Lives
The Dire Need for Outdoor Warning Sirens: Cellular Reliance Can Cost Lives!
In an age where smartphone alerts have become our mainstay, we are confronted with a chilling reality. Cellular networks, amidst the critical moments of wildfires and other natural calamities, often falter or become entirely inoperative. The consequences of such failures are grave, often leading to confusion, panic, and tragically, loss of lives.
Two prime instances underline the severity of this challenge:
The 2018 Camp Fire, Town of Paradise: Notoriously known as California's most devastating wildfire, the fast-moving flames ravaged the town before many even realized the imminent danger. A crucial factor that delayed evacuation and alerts was the disruption of cellular networks. 66 towers were either damaged by the fire or became non-functional when power companies preemptively shut down electricity in high winds to prevent sparking more fires.
The 2023 Maui Lahaina Wildfires: Similar to Paradise, Maui residents faced terrifying hours when cellular alerts ceased amidst the growing firestorm. For many, the first indication of the rapidly approaching fire was the sight of smoke or flames, rather than an early warning that might have provided precious time for evacuation. Over 14,000 homes and businesses were without power and cellular service during the devastating fires.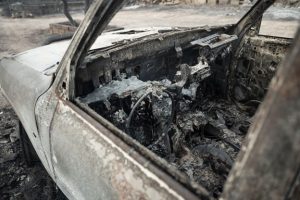 Such instances are not mere outliers. The reliance on cellular networks alone for emergency communication, especially in the context of natural disasters, is fraught with danger. Notably, during severe weather events (like high winds or freezes), earthquakes, or wildfires, electrical companies often de-energize power lines as a precaution. This results in the crippling of the very communication tools residents rely on for life-saving information.
However, there is a solution that municipalities can and should consider: Outdoor Warning Sirens. These systems present several advantages:
Redundant Power Sources: Unlike cell towers that are vulnerable to power shutdowns, well-designed outdoor warning systems come with backup power solutions ensuring they operate when most needed.
No Cellular Network Dependency: Outdoor sirens do not hinge on the cellular network's functionality, ensuring that their primary communication channel remains intact even when cell networks falter.
Early Warning: In many situations, such as sudden severe weather or flash floods, sirens can provide more immediate and widespread notification than cellular alerts, giving residents vital minutes to seek shelter or evacuate.
In fact, in events like the 2011 Joplin tornado or the 2004 Indian Ocean tsunami, the early warning provided by sirens proved invaluable, undoubtedly saving countless lives.
To truly safeguard our communities, a multi-pronged approach to emergency communication is essential. Cellular alerts, while invaluable, cannot be our only line of defense. For municipalities, the message is clear: invest in outdoor warning sirens. When seconds matter, these systems stand as silent sentinels, ready to sound the alarm and offer a beacon of hope amidst the chaos.
HQE Systems is a certified Veteran Owned Company. For more information about HQE Systems Inc. and its emergency management, electronic security, and integration solutions, please visit www.hqesystems.com.
Contact: David Ditto (Early Warning Systems Subject Matter Expert)
Email: David.Ditto@hqesystems.com 
Phone Number: (843) 872-7020
____________________
HQE Systems, Inc.   |   HQE is a Minority-Owned Service Disabled Veteran Owned Small Business (SDVOSB) providing full solutions for: Mass Notification Systems, Electronic Security Systems, Software Development Services, Contract Support, and Prototyping Services.  As a brand-agnostic solutions provider, HQE prides itself in providing the BEST solution for the project.  HQE possesses over 30+ factory certifications and reseller licenses to ensure our clients receive the highest quality service at the ideal budget.  HQE can provide full design, installation, integrations, upgrades, and long-term maintenance support for any size and scope project.
www.HQESystems.com #HQESystems #HQE #Rolling_Hills #California #Palos_Verdes #SystemsIntegration #FEMAIPAWS #MassNotificationSystems #MNS #ElectronicNotificationSystem #OutdoorWarningSirens #GiantVoiceSpeakers #EarlyWarningSirens #TornadoSirens #TsunamiWarningSirens #FEMAHazardousPrevention #EmergencyPreparedness  #SiRcom #SiSA #Onsolve #Blackboard #ActiveShooterLocators #CampusViolenceSensors #IndoorNotifications  #ElectronicSecuritySystems #AccessControlSystems #IntrusionDetectionSystems #ClosedCircuitTelevision #ACS #IDS #CCTV #SurveillanceCameras #SoftwareDevelopment #Artificialintelligence #MachineLearningSoftware